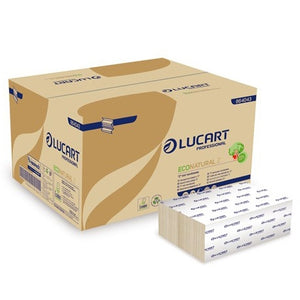 The ECO Natural z-fold hand towels, by Lucart, are a quality unbleached paper hand towel made from 100% recycled Tetrapak cartons.

Since this is the first time the pulp from the Tetrapak cartons has been recycled the fibres are long and the strength, softness and absorbency of the product is exceptionally good.


Z-fold towels are more economical than C-fold towels and with each towel folded into the next, they 'self-present' offering a hygienic dispensing solution.


Embossed, 2 ply.
Folded size approx. 8cm x 22.5cm, and 
22.5 x 24cm when unfolded.

3000 per case, 15 sleeves of 200 towels.

Our hand towels have received the
EU EcoLabel
which verifies the reduced environmental impact of the product's lifecycle.
Recycled, Recyclable, 100% Biodegradable & Compostable.