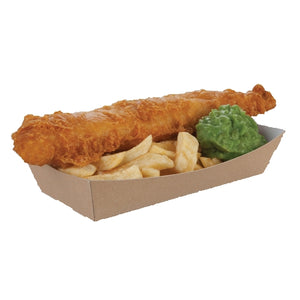 A versatile takeaway food tray made from kraft recycled paperboard. The trays come pre-assembled making them ideal for fast food-service in a wide variety of environments such as festivals, cinemas and theatres.
Perfect for fish & chips, hot dogs, nachos and more!
Length: 220mm tapering to 190mm
Width: 115mm tapering to 85mm
Depth: 45 mm


250 per case.

*Approximately 950ml capacity although this depends on how high you decide to fill to!
Recyclable, 100% Biodegradable & Compostable.