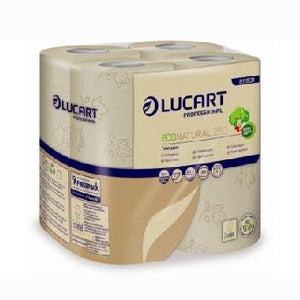 ECO Natural toilet rolls, by Lucart, are a quality unbleached toilet roll made from the board of recycled Tetrapak cartons.
Many recycled paper products are made from a mixture of newspapers, magazines and cartons, many of which have already been recycled once or more, and each time fibres are recycled they get shorter and their performance is reduced. This is the first time the pulp from the
Tetrapak
cartons has been recycled so the fibres are long and the strength, softness and absorbency of the product is exceptionally good.
2 ply, 250 sheets per roll
These toilet rolls have received the
EU EcoLabel
which verifies the reduced environmental impact of the product's lifecycle.
Also available to buy as an individual pack of 8 rolls
here
.
NEW
Recycled, Recyclable, 100% Biodegradable & Compostable.