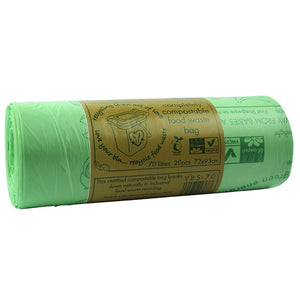 High quality 70 litre bio bin bags, certified for both home and industrial composting. These bags are made from Mater-Bi®, a breathable material that keeps food waste drier and cooler thereby reducing any odours. This plant-based film is made from vegetable oils and thistle starch, so it won't contaminate soil and is a proven barrier to bacteria, viruses and mould. 

Ideal for pure food waste either in the home or commercial kitchens, these bio bin bags can be tied and lifted reducing the need for washing bins. They are also transparent when wet so contents can be viewed.  

Made in Europe.

Dimensions: 720 x 930mm

Packaged as 1 box containing 16 rolls of 20 bin bags.

Also available as single rolls of 20 bags here.
100% Biodegradable & Compostable.